Match report - Dublin 2-11 Cork 0-11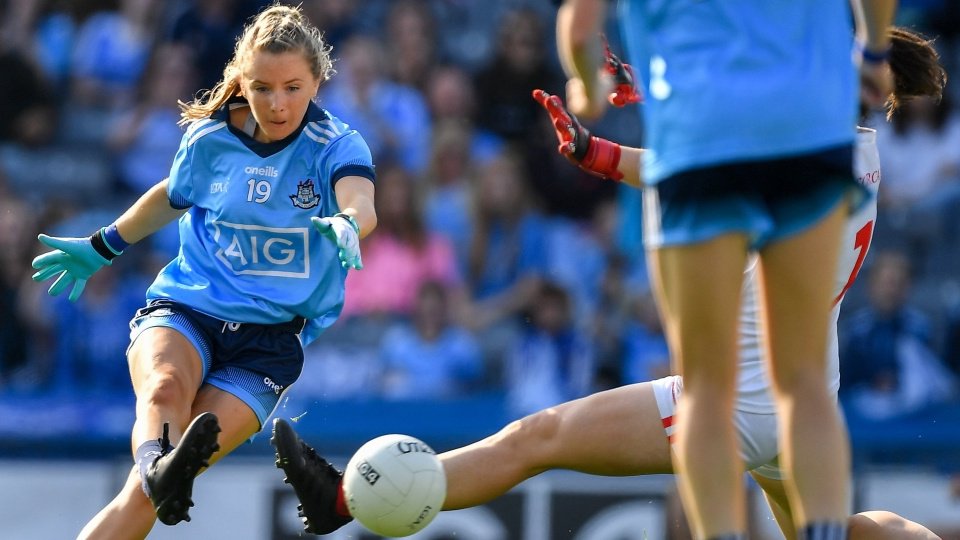 ; Caoimhe O'Connor of Dublin scores her side's first goal during the TG4 All-Ireland Ladies Senior Football Championship Semi-Final match between Dublin and Cork at Croke Park in Dublin. Photo by Brendan Moran/Sportsfile
Daragh Small reports on yesterday's All Ireland semi final in Croke Park.

Dublin manager Mick Bohan says his side will have a big battle on their hands if they are to hold on to their crown when they meet Galway in the TG4 All-Ireland senior final at Croke Park on September 15.
His side saw off the brave challenge of a Cork side whose manager Ephie Fitzgerald announced after the game that he was stepping down after four years in charge.
""There is a young squad there and I suppose I have a lot going on," said Fitzgerald. "I have a family at home that I probably haven't given as much time to this past few years as I should have been doing.
"So, there are a lot of factors really. Work and all. But the result today was nothing to do with my decision to step down. That was made a while back.
"There isn't a whole lot between the teams. I do believe that but probably another year or two may of finding one or two more players and hopefully some of the older girls will stay on because it is a huge commitment.
"It is a building process. There are young players there but in terms of conditioning and that you can see how strong the Dublin girls were there today
"To be fair to the Dublin girls, they have given it massive commitment. They lost a few finals before they won one and that is testament to their commitment to their county. There is a future there for Cork. An All-Ireland: who knows? But Cork will be competitive going forward. We have only seven of that panel that started in 2016 left so there is certainly talent there.
"We won the league and our Munster Championship and to be competitive in an All-Ireland semi-final against Dublin augurs well for the future."
Dublin manager Mick Bohan was pleased that his side made the step up to handle the Cork challenge.
"Three weeks ago we weren't in a good place. We weren't playing good football. We certainly didn't hit the tempo that was requires for this end of the championship," said Bohan.
"We were hugely impressed by the way these guys went about it, particularly over the last fortnight. Just the maturity in the group in knowing that they had to get up a couple of notches, and the way that they approached training and the leadership they showed to make the thing work.
"I'm so proud of our group today, the way they went about their work."
His biggest concern ahead of the final showdown with Galway concerns a knee injury which curtailed Nicole Owens' involvement to just four minutes.
"She sustained a knee injury in the warm-up in the Monaghan game. It was a ligament injury," added Bohan.
"The work she has done to try and prepare it to get back for today was just colossal. I think she's done something like 30 one-on-one sessions. For her, it's obviously a huge blow to do that and to get the setback in the first five minutes of the game.

"The only thing I can say about that is it just reveals the character that's in our group, that we have people that are willing to do whatever it takes to try to be successful."
Second-half goals from Caoimhe O'Connor and Sinéad Aherne proved the difference in the end as Dublin booked their place in the TG4 All-Ireland final.
Dublin had lost twice to Cork in 2019 and the sides were deadlocked at 0-7 apiece at half-time following an absorbing opening half hour of action where neither side could establish a period of dominance.
Dublin scored their first goal when Cork were down a player in their full-back line with Eimear Meaney off the field. Caoimhe O'Connor applied the finish after a smart move and Aherne wrapped up the win with a late penalty.
The sides were level seven times in the opening half as they traded score for score in a gripping encounter in front of a crowd of 10,886.
Both sides picked off fine points with Lyndsey Davey, Niamh McEvoy and Carla Rowe in top form for Dublin, while Eimear Scally, Doireann O'Sullivan and Orla Finn were impressive for Cork.
Aherne edged Dublin in front after the restart but were reduced to 14 players in the 33rd minute when Niamh Collins was penalised for a foul on Doireann O'Sullivan and issued with a yellow card. Finn scored the free.
Rowe's quickly taken free allowed her to send over her third point and interval substitute Noelle Healy opened up the first two-point margin between the sides when she fisted a score.
That lead was halved by a Finn free but Meaney was sent to the line for a yellow card in the 41st minute.
Áine O'Sullivan almost scored a goal for Cork two minutes after her arrival as a substitute, but she couldn't finish off Ciara O'Sullivan's pass.
But Dublin substitute O'Connor took her chance when she was set up by Niamh McEvoy and Healy in the 44th minute.
Dublin extended their lead when Jennifer Dunne pointed after coming off the bench, while Áine O'Sullivan then departed on a yellow card for an off-the-ball challenge on Davey.
Finn ended Cork's 17-minute scoring drought but Collins was fouled at the other end for Aherne to score the resultant penalty and seal their place in the final.

Scorers – Dublin: S Aherne 1-3 (1-0 pen, 3f), C O'Connor 1-0, C Rowe 0-3, L Davey 0-1, O Whyte 0-1, N McEvoy 0-1, N Healy 0-1, J Dunne 0-1.
Cork: O Finn 0-9 (8f), D O'Sullivan 0-1, E Scally 0-1.
Dublin: C Trant; É Rutledge, N Collins, M Byrne; A Kane, S Goldrick, O Carey; L Magee, S McGrath; C Rowe, N McEvoy, L Davey; S Aherne, N Hetherton, N Owens. Subs: O Whyte for Owens (4), N Healy for Hetherton (half-time), C O'Connor for Whyte (39), J Dunne for Kane (53), K Sullivan for McEvoy (63).
Cork: M O'Brien; H Looney, E Meaney, S Kelly; A Hutchings, M Duggan, E Kiely; N Cotter, M O'Callaghan; O Farmer, C O'Sullivan, D O'Sullivan; S Noonan, E Scally, O Finn. Subs: Á O'Sullivan for Cotter (39), E Spillane for Kelly (45), L Coppinger for Noonan (48), R Ní Bhuachalla for D O'Sullivan (53), D Kiely for E Kiely (53).
Ref: Maggie Farrelly (Cavan).

More from Sport