Jimmy Barry Murphy launches the Irish Laurels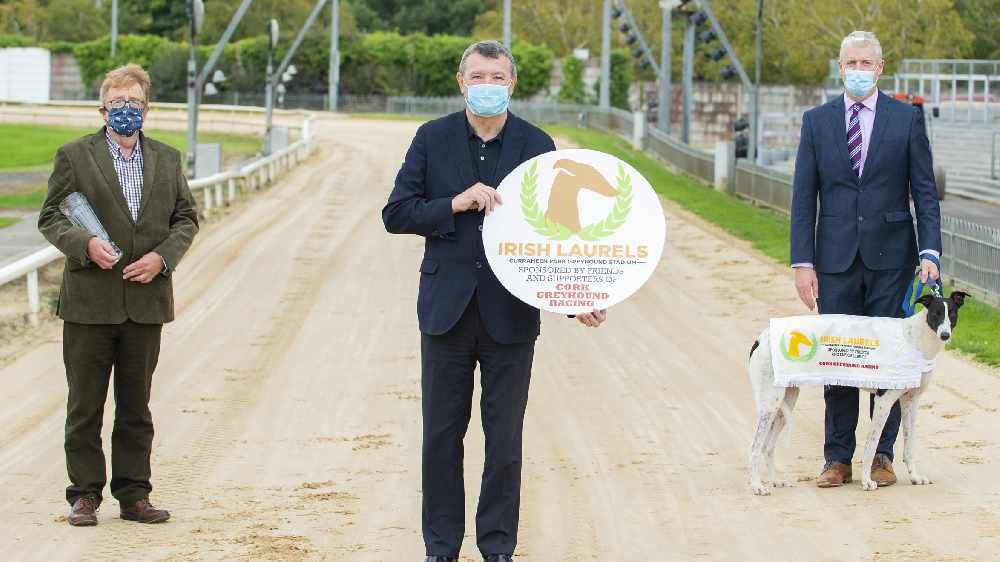 Jimmy Barry Murphy, in his role as Chairman of "Friends of Cork Greyhound Racing", was joined by IGB Chairman Frank Nyhan and Curraheen Park Greyhound Stadium Racing Manager Brian Collins to launch this year's event.
Cork GAA Legend Jimmy Barry Murphy was on hand to help launch the Irish Greyhound Laurels in Curraheen Park Greyhound Stadium over the weekend.
In 2019 a newly formed committee, led by legendary Rebel GAA figure Jimmy Barry Murphy and called the 'Friends and Supporters of Cork Greyhound Racing' made the decision to raise the sponsorship contribution for the Irish Greyhound Laurels. After a local and nationwide "call to arms" to individuals and businesses, enough funding was pledged to not only guarantee the event for 2019 but for three years until 2021.
As Jimmy commented at that time, "There is a strong greyhound community here in Cork and we have more greyhound owners than any other county in Ireland. We are hugely thankful to Cork's business community and the greyhound fraternity who have pulled together to ensure our sponsorship and support for racing in Cork for three years."
One year on and the committee are back in place to oversee year 2 of the 3 year sponsorship of the Classic. Looking forward Jimmy said at the launch "We are looking forward to the commencement of this years' Laurels, one of the most prestigious events in the Irish greyhound calendar. The Laurels is certainly the highlight for us in Cork each year and is, we believe, second only to the Irish Greyhound Derby on the annual greyhound racing calendar."
Last years' final saw local greyhound Rockybay Foley successfully defend his 2018 title. The dog trained by popular local trainer Kieran Lynch and owned by Chrissie Slyne took home the €30,000 winning prize in a time of 28.77. This year an equally competitive event is anticipated.
The Irish Laurels was first ran in 1944 in the old Cork Greyhound Stadium, and was hosted there until 1999. From 2000, the event has been hosted in Curraheen Park Greyhound Stadium, in Bishopstown, Cork.
Robeen Printer was the first winner of the Laurels in 1944, in a time of 28.98 seconds. Trainer Ger McKenna, late of Co. Tipperary, won the competition a record eight times, in 1970, 1976, 1979, 1980, 1983, 1984, 1985 and 1996.
The 2020 Laurels will begin on Saturday, 26th September and will run for five consecutive Saturdays, with the final hosted on Saturday, October 24th. The trap draw will be broadcast live on Monday 21st September at 5pm via the Curraheen Park Greyhound Stadium FB page.
More from Sport