Cork v Tipperary : manager Denis Ring interview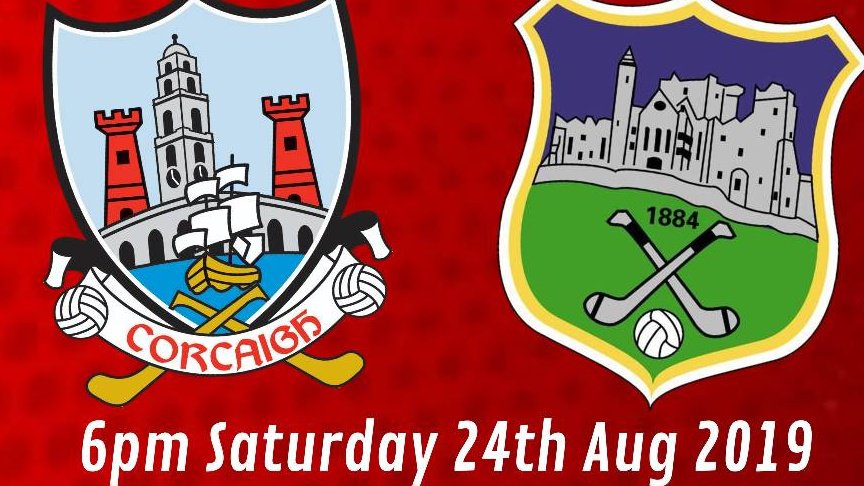 Cork take on Tipperary in the Bord Gáis Energy All Ireland U20 Hurling Championship Final this weekend.
The sides go head to head at the LIT Gaelic Grounds on Saturday evening, with the Rebels looking to exact revenge from the Munster Final defeat to the Premier.
The Rebels bounced back from that defeat with a win over Kilkenny in the All Ireland Semi Final, and according to boss Denis Ring, it was a case of making small adjustments.
"The lads are in a good place. It was easy to pick them up after the Tipperary match because a lot of things in that performance were very good. 40 seconds to go we were winning the game, you know? And you don't throw out the baby with the bathwater, either. You look at the positives. I'm a great believer in that when you lose a game, you're probably not as bad as people say you are. And when you win a game, you're probably not as good as people say you are. The truth is always somewhere in between.
"We took a lot of positives from the Tipperary game. There were a number of things that we targeted that we were unhappy with, that we put a lot of work into, trying to improve on those against Kilkenny. And we were delighted that the lads did that and transferred it onto the pitch."
There was just a one week gap between the Munster final and the All Ireland semi final, and Ring says it suited his players down to the ground.
"If you had performed very poorly, it would have been very hard to lift them. But we had recovery the following night, the lads came back in good form. We had a couple of sessions leading into it [the Kilkenny game], we had our review sessions, we did our video analysis, and we were able to identify a lot of things that were very positive.
"We set out a template for how we wanted to approach the Kilkenny game, because Kilkenny are slightly different from other teams in how you approach them. We were very clear in what we wanted to do, and to be honest with you the lads set out their stall very early in that Kilkenny game and performed particularly well."
Ring says the biggest improvement was the increased work rate from his players.
"The energy levels in our forward line, particularly in our half forward line, were exceptionally good that day. Against Tipp in the last quarter of an hour, 20 minutes, we made life very difficult for ourselves. A lot of ball that was going up there was coming back, and we weren't competing hard enough for the ball up there.
"The Kilkenny backline would have been much vaunted, you had Michael Carey who's in the senior panel, David Blanchfield who was man of the match in the Leinster final and Conor Heary on the other wing who was man of the match against Galway. So you had three pretty good guys in the half backline. But we asked a lot of questions of them and put them on the hind foot, so they weren't dominating to the extent that Tipperary were against us."
By the time the Rebels take to the field it will have been three weeks from that win over Kilkenny. And with plenty of club championship action the last two weekends, Ring says the players being with their clubs will be a good distraction for his squad - once everyone comes through unscathed.
"It's good for the lads, I suppose mentally as much as anything. It's like we've been in camp for the last couple of months, the matches have come thick and fast. And maybe from their perspective it's a good thing to get away from us for a while.
"You just hope that you get everyone on the pitch that you want to have on the pitch. You just hope you can get your preparation right, because preparing for Tipp are totally different in terms of how you defend against them than Kilkenny. Kilkenny play a flat six forwards, it's fairly orthodox. Tipp's movement is exceptional - their eight goals the last day [against Wexford in the S/F] was like fantasy hurling. And not only was it eight goals, it was eight goals against a top ranked team. They lost to Kilkenny by two points in the Leinster final. So to get eight goals past them was phenomenal.
"We've noticed from that game that they [Tipp] have kicked on a bit. They've made some structural changes to their team - they've moved Jerome Cahill to centre forward, he's a serious serious player. He got three points from play off Mark Coleman in the All Ireland Final last year. They keep interchanging in the forward line - they're almost like a basketball team in the way they keep rotating and moving around, which makes it problematic in terms of marking. So we'll have to be clever the next day and adaptable to that."
Tipperary will go into the game as favourites, and Ring believes that being underdogs will suit his team right down to the ground.
"Oh absolutely. It takes that little bit of pressure off. They're justifiably favourites, they're excellent. They have a lot of guys who played last year in the All Ireland final. Jermoe Cahill has good experience, Jake Morris was man of the match in the All Ireland Final, Paddy Cadell came on, he was vice captain last year. We have a particularly young team - 13 of our 30 are underage again next year.
"But from that perspective we have a lot of guys who probably have no hangups, as they weren't involved last year. Against that you're playing against a Tipp team who are experienced, they have that experience of winning last year and winning Munster this year. I know from talking to Tipp people that the expectation up there is very high. I was talking to a former Tipp hurler who was telling me that if you can restrict them from four goals you'd be doing well! He was saying it tongue in cheek, but afterwards he said the way they're playing at the moment and the level they've gone to, that's about it.
"They've kicked on from the Munster final, they've shaped their team a little bit different. We'd like to think we've kicked on as well. Now, they've had three weeks uninterrupted preparation because everything has stopped, which gives them that little bit of an advantage."
And with the prospect of an Under 20 double on the cards following the footballers' terrific win over Dublin, Ring is hopeful his side can bring another All Ireland title back to Leeside.
"That day up in Portlaoise was fantastic, it was great to be part of that occasion. Our lads put in their performance against Kilkenny, and the footballers were phenomenal. Particularly coming from 1-6 down, they played with such abandon, they just drove on and on and on. And it was good for our lads to see that. Our lads supported them to the last and it was a great day for Cork sport.
"We're happy to be playing in Limerick. It's a neutral venue, hopefully we'll have a good Cork public up there and if the support is like anything we got in Portlaoise for the semi final, we'd be delighted. Tipp will have that as well, they're boasting fairly openly about this team, they're very proud of this team and maybe justifiably so.
"But from our perspective it's a massive challenge. We're going into in a nice way, maybe expectations weren't what they were previously. And from that point of view, we're kind of waiting in the long grass a little bit."
Fingers crossed we'll be celebrating another Cork victory on Saturday evening. The very best of luck to Denis and his team from everyone here at Cork's RedFM.
More from Sport