UPDATE : Up to 300 attend anti-lockdown rally in Cork city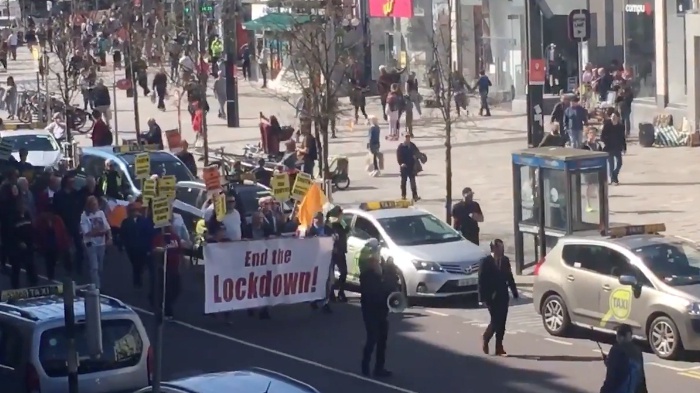 The 'Independent Campaign for TRUTH & Proper Public Healthcare' is calling for an end to lockdown measures

Up to 300 people have turned out for an anti-lockdown rally in the city centre today which passed off peacefully.
Speakers addressed the crowd outside Brown Thomas on Patrick Street and called for an end to lockdown measures.
Approximately 30 uniformed gardaí, plain clothes officers and members of the mounted bike unit observed the protest.
The 'Independent Campaign for TRUTH & Proper Public Healthcare' say the Government announcement this week didn't go far enough in its roadmap to easing restrictions
Speaking to RedFM News event organiser Diarmuid O'Cadhla says he's not concerned the demonstration will spread the virus, and he believes the timing of the demonstration is important:
"Not in the least - and that fear was raised before the rally at the start of March, and it proved to be completely unfounded. As we said at that rally. Spring is in the air, the weather is improving, flu like viruses disappear in those conditions, and that happened, and it's continuing to happen. You'll see into the summer months there will be less and less incidence of this virus"
More from Coronavirus