"The end is now truly in sight" - Taoiseach addresses the nation: Key Points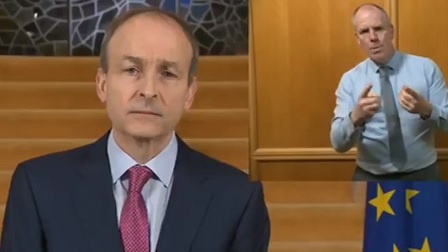 The key points from this evening's address to the nation where the Tasoieach confirmed that Level 5 restrictions will remain in place until at least April 5th.
Level 5 to continue April 5th

Phased return of in-school education; next Monday junior infants - 2nd class and Leaving Cert to return
On March 15th remainder of primary classes and 5th years
The remainder to return after Easter Break
March 8th Early Childhood pre-school programming will resume
March 29th all other childcare will return

After April 5th

Easing of restrictions on outdoor gatherings will be under consideration
Easing of restrictions on certain sporting activities will be under consideration
The return of construction services will be under consideration
Easing of 5km travel limit will be under consideration

Other announcements

Taoiseach says 82% of adults will have had their first dose by the end of June - 1.2 million first doses would be administered by the end of March and 1.1 million doses during April, May and June.
The Pandemic Unemployment Payment will remain in place until the end of June.
€20 million in new funding has also been agreed today for mental health supports and investment in communities.
More from Coronavirus