London's Mayor Declares "Major Incident" Due To Rising Coronavirus Cases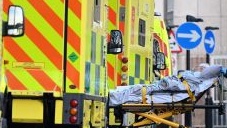 The number of case threaten to overwhelm hospital
Sadiq Khan says the city is at a "crisis point".
He's asking the British Prime Minister Boris Johnson for greater financial support for Londoners who can't work because they're self-isolating, and for places of worship to be closed.
More than 800 people a day are being admitted into London hospitals with Covid-19 - up from around 500 before Christmas.

More from Coronavirus