Livestock mart owners told there's no prospect of easing Level 5 controls to allow buyers go back to auctions in person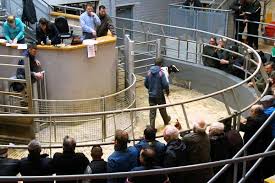 It follows a the collapse of one of the most popular apps used for online trading on Saturday

Livestock mart owners have been told there's no prospect of easing Level Five pandemic controls to allow buyers go back to auctions in person.
It follows a the collapse of one of the most popular apps used for online trading on Saturday -- the only method for buying and selling allowed at the moment.
In a statement issued last night, the Department of Agriculture says the failure only delayed sales in roughly half the marts, with just four cancelling for the day.
But Mart Managers of Ireland chair Eimear McGuinness says it was a "fiasco" -- and with a busy trade expected today, she's nervous.

More from Coronavirus