Leaving Cert exams to get underway on Wednesday June 9th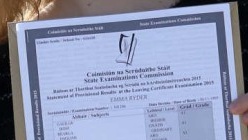 English paper one is the first exam to take place and will be held at 9:30 that morning.
Physical Education will be the last subject to be examined on Tuesday June 29th.
No additional time has been allocated for students to complete their tests according to the timetable published by the State Exams Commission.
Meanwhile the cabinet sub-committee on COVID is meeting around now to discuss a date for the re-opening of schools.
It's expected students will return to classrooms from March 1st on a phased basis.
The first back will be Leaving Cert students and junior infants, senior infants and first class.
The situation will be reviewed every two or three weeks after that, meaning some students won't return until April.
More from Coronavirus