Tom and Molly Martens released from prison in the US after being granted bail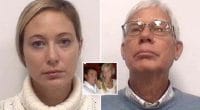 The father and daughter were freed last night after posting bond of $200,000 .
They now face a retrial for the second degree murder of Limerick man Jason Corbett in 2015.
Southern Correspondent for the Irish Independent, Ralph Riegel, says Mr Corbett's family will have mixed emotions over yesterday's events: "On the one hand, they had to watch Tom and Molly Martin's walk free from prison after almost four years. However, on more positive news for the family. They had campaigned very vigorously over the last week for a controversial plea bargain deal, knock, proceed and the indications last night from Davidson County Court, is that a retrial is now moving ahead."
More from Cork