Broad welcome for an ambitious new "masterplan" for Carrigaline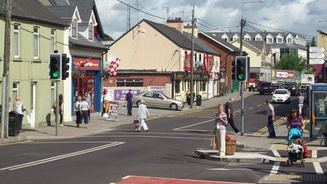 Up to 60 jobs will be created during the construction phase, with a further 30 full time jobs when the Aldi store opens in the town
The multi-million euro proposals for the old pottery site in the town include an Aldi store, a drive thru restaurant, retail units, a large outdoor plaza and 60 residential units.
The plan for the centre of the town will create around 290 car parking spaces and also includes a multi-screen cinema.
Up to 60 jobs will be created during the construction phase, with a further 30 full time jobs when the Aldi store opens.
Adrian O'Herlihy from Carrigaline Business Association told RedFM News that it's a welcome boost for the town and a significant improvement on previous plans
"I suppose one of our major objections, a couple of years ago was the vehicle access off Main Street, going into the development, which was going to block traffic on Main Street and cause backlogs, what we notice is that the, the entrance the vehicle entrance seem to be off the bypass road, which would be welcome"
More from Cork