Hey Green On Red Heads!! Conor here with my Green On Red 'Pick of the Week' – this time it's the dazzling new track from Irish Women in Harmony – "Only A Woman"
The collective that features some 40 singers and musicians were brought together by RuthAnne Cunningham to help give Irish women a real voice in music. Their first release, a cover of The Cranberries' "Dreams" , saw the group raise €215,000 for domestic abuse charity Safe Ireland. At that time Irish Women In Harmony also promised that this would not be a one-off and that more music would follow which thankfully we're seeing now.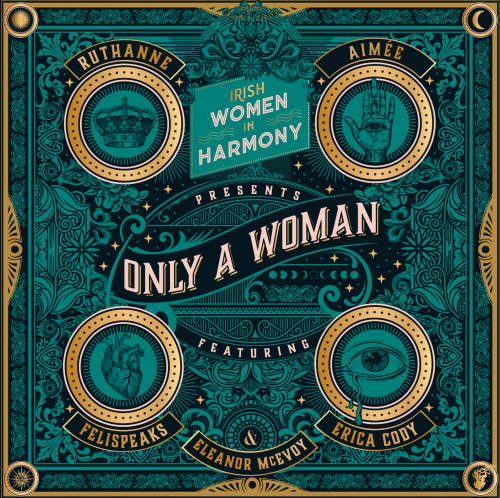 The new single 'Only a Woman', is a generational crossover as much as it is a musical one. The song features a vocal sample from an earlier 1992 Eleanor McEvoy song 'Only a Woman's Heart' (a sample which she re-recorded specifically for this song) – the baton is passed to RuthAnne as the song unmistakably brings modern Ireland to the fore, a multi-cultural, progressive Ireland with the same love for song, story and poetry ,as has long been a part of our identity, thanks to the spoken word verses from FeliSpeaks. RuthAnne, Aimee and Erica Coady provide vocal harmonies over the end of the song.
'Only a Woman' is a lovely re-imagining with all the flair of contemporary Irish music and a very conscious mind, with heart and depth to draw you in again and again – a worthy reflection on Irish women of today!
RuthAnne Says:
"I got the idea for this new track from the public reaction to 'Dreams', when people said the Irish Women In Harmony collective reminded them of 'A Woman's Heart'. So our new single 'Only A Woman' is about what it is to be a woman today. And what better way to celebrate that than to feature the chorus of the iconic Irish song 'Only A Woman's Heart' written by Eleanor McEvoy. We've added our own original spin on it with beautifully written spoken-word verses by FeliSpeaks, with vocal features by our own Aimee, Erica Cody, and myself, plus a vocal cameo by Eleanor McEvoy herself. We hope the song connects and inspires and empowers a new age of womanhood for all." - RuthAnne Cunningham.
Join Conor for three hours of the best and newest Irish music each Sunday night for Green On Red from 7pm