Alpaca Your Bags! Win A Trip To Peru!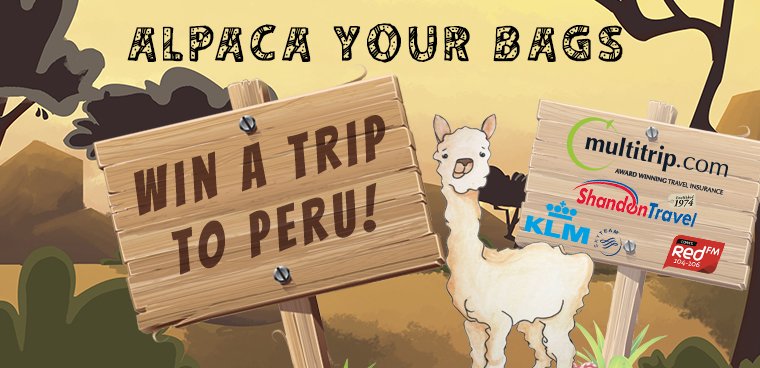 RedFM's Alpaca Your Bags with Multitrip.com, Ireland's Favourite Travel Insurance
We're sending you to Peru to experience first-hand the country's wonderful culture, traditions & people.
Return Flights to Lima, Peru with thanks to KLM Royal Dutch Airlines
8-night trip staying 3 nights in Lima, 1 night in the Sacred Valley, 3 nights in Cusco & 1 night at Lake Titicaca with thanks to ShandonTravel.ie
Activities will include:
a Tour of Lima, the Ollantaytambo Ruins in the Sacred Valley
Then onto Cusco & Machu Picchu (one of the new 7 Wonders of the World)
You'll see the Andes from Cusco to Puno
a Tour of the Traditional Floating Islands on Lake Titicaca
A Multitrip.com Travel Insurance policy
All transfers and…500 Euros Spending Money
All with thanks to Multitrip.com, when things go wrong on holidays, Multitrip.com make them go right!
Listen across the station all week for more details.
Full terms & conditions are here
All of Cork's RedFM's usual terms and conditions also apply
Regsiter your interest here: