Conor McGregor arrested in Miami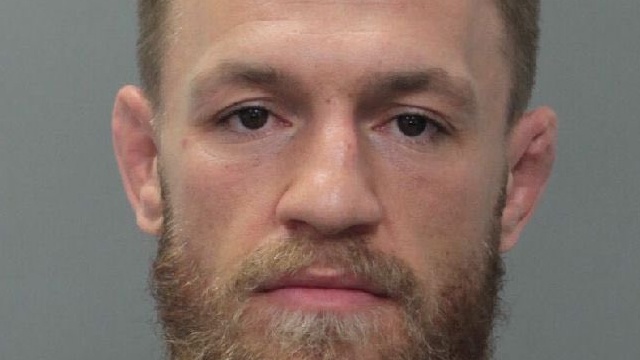 Conor McGregor has been released from jail in Miami after being charged with strong-armed robbery and criminal mischief.
The Dubliner was leaving the Fontainbleau Hotel in when a fan attempted to take a picture of him on a phone.
McGregor slapped the phone from the victim's hand, before stamping on it several times, and then walking away with it.
The victim stated the phone was worth $1,000.
Following the incident, Conor McGregor was located and arrested by Miami Beach Police.
Police tracked down the former UFC Champion - who is on holiday in the city - and arrested him after viewing CCTV footage.
He was charged with "strong-arm robbery" and "misdemeanour criminal mischief", and released on a bail of $12,500.
McGregor's lawyer, Samuel Rabin, released a brief statement, saying:
"Last evening Conor McGregor was involved in a minor altercation over a cell phone that resulted in a call to law enforcement. Mr McGregor appreciates the response of law enforcement and pledges his full cooperation."
MBPD has arrested and charged Conor McGregor, DOB: 7/14/88, with Strong Arm Robbery and Criminal Mischief, both felonies. Please see arrest report and booking photo below. No additional information will be provided. pic.twitter.com/9HdkRWPnd8

— Miami Beach Police (@MiamiBeachPD) March 12, 2019
WATCH: Footage from moments ago as MMA star #ConorMcGregor leaves jail in Miami-Dade County. He was arrested earlier today after allegedly smashing a man's phone and taking it. Read the latest here: https://t.co/EdMPjTYBMp pic.twitter.com/hDASDqwV3C

— CBS4 Miami (@CBSMiami) March 12, 2019
More from Sport