Avondale United target Intermediate Cup glory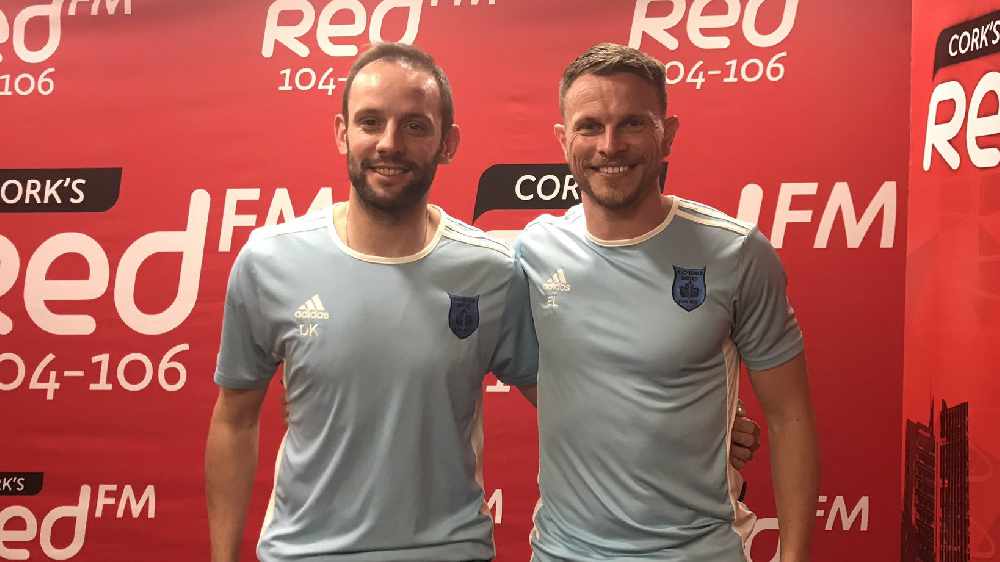 Dave Kiely (l) and Eoghan Lougheed (r) of Avondale United
Avondale United will be hoping to capture an eighth FAI Intermediate Cup on Saturday.
The Munster Senior League side head to the Aviva Stadium to take on Crumlin United, with kick off at 2pm.
The Dales are already the competition's most decorated side with 7 Intermediate Cups, four of those coming in that incredible four in a row run between 2011 and 2014.
Club stalwart Eoghan Lougheed has 5 medals in his pocket, and the defender wants another one on Saturday.
"I'm trying catch David Spratt and Dave "The Save" O'Keeffe! They both have six. It would be nice to try and catch that."
This will be the first time that Avondale will have played an Intermediate Cup final at the Aviva Stadium. Defender Dave Kiely though says they're not going to let the occasion affect them when the game kicks off.
"I think it's more for the club as a whole, for the supporters heading up there for the big day out in the Aviva. It's about the medal and the trophy for me, and I think I speak for all my team mates and the management when I say that. As soon as the whistle goes - you don't really care where you're playing. The game is on and that's it. Being honest, I think there's probably too much made about the venue from a players' point of view. It doesn't matter to me where the final is played."
Lougheed agrees.
"It's a great venue, but it's all about the medal. You'd play in the car park outside. There's a massive emphasis on the Aviva, fellas would be mentioning it from the very first round, "The Road to the Aviva" and all that. I'm more about records - I want the most Intermediate Cup medals. I want the most Intermediate Cup appearances. It's all about the medal for us."
"It depends on how the day goes too", says Kiely. "If we come away with the winners medal on Saturday it becomes 'oh that was an unbelievable day at the Aviva'."
Standing in Avondale's way on Saturday are Crumlin United. The Dublin side won back to back Intermediate Cups in 2015 and 2016, and Lougheed says they're formidable opposition.
"We've come across them quite a few times over the years, we've had good battles with them. They beat us in the final back in 2010 - that's in the back of my mind. We owe them one for that! There's a few of our lads were also involved, Mark Horgan, Ken Bruton our manager played that day. It doesn't sit well with us losing finals, so it would be nice to get one up on them this year."
"The management team have been up to watch them a couple of times, as you'd expect", says Kiely. "And we have people in Dublin who'd be giving us some information on them, too."
"We've had to put the final to the back of our mind, really", says Lougheed. "It's not until this week when we'll get information on them, on their style of play. What we'll do to counteract it. Our own tactics for the final. We're training three days this week, we're going up on Friday. We'll have enough done on them by the time the first whistle goes on Saturday."
Bus loads of Avondale supporters will be heading to Dublin on Saturday morning for what is sure to be a great occasion for the club. And Kiely says Saturday isn't just about the first team - it's for everyone at the club.
"We haven't had a lot of time to focus on Saturday, to be honest. We've been playing two, three games a week, which is usually the way it gets in Munster Senior League football this time of the year. But we hear the chatter. You still know there's bus loads going, there's train loads going. We know it's a massive day for the club, for the the supporters, for the people who do the hard work in the background - the committee members, the people doing the fund raising. It's their day really as well."
Both Kiely and Lougheed are confident they have what it takes to win on Saturday, once they're at their best from the off.
"If you look at our form in the competition this year, we've been impressive against very good opposition", says Kiely. We've gotten past Midleton, Rockmount, Cobh Wanderers, Fermoy, Mayfield United and Leeside. A couple of those sides are challenging for the Munster Senior League Premier division title at the moment. We were down to ten men against Rockmount for a long stretch of that game and weren't really threatened. We do have the big game in us. This competition brings out the best in us. I look around the dressing room, I see the fella sitting on my left and my right... yeah I'm confident."
"Listen, Crumlin are a mighty team", says Lougheed. "They've not been beaten very much. They won the Leinster Senior League last week. It's going to be a tough challenge, our toughest this year. But as Dave says, this competition has brought out the best in us over the years. You look around the dressing room, I haven't totted up the medals but there's at least 20 medals in that dressing room, maybe even 30 between us all. Karl Caulfield has four, Hoggie has four, Podge our keeper has three, Marky Sull has four, maybe even five, actually. There's fierce experience there, I couldn't speak highly enough of the dressing room and the fellas that are in it, real leaders. I'd be confident with the players and team we have.
"Kenny our manager has put in tremendous work over the year. He'll have his homework done. Over the past three years, really. He's brought a different approach, trying to get us playing a bit more football than before. And that would give us confidence, too."
Avondale United v Crumlin United kicks off at 2pm on Saturday at the Aviva Stadium. Best of luck to Avondale on Saturday - we'll have the best post match reaction on the Big Red Bench that evening from 6.
You can listen to the interview with Dave and Eoghan on the Big Red Bench Podcast.
More from Sport