Vera Twomey is continuing a sit-down protest at the gates of Leinster House this evening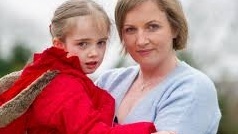 The Cork mum is demanding a meeting with Health Minister Simon Harris - over access to medicinal cannabis for her daughter Ava who has a rare form of epilepsy
Vera Twomey is continuing with her sit down protest despite repeated requests from Gardai for her to leave.
There's a large Garda presence on Kildare street as the demonstration is preventing TDs from exiting the Dáil.
Vera began a sleep out last night and says she won't leave until Minister Harris meets with her.
Speaking to RedFM News Vera says it was not their intention to disrupt business at Leinster House, only to highlight the issue of medicinal cannabis.
More from Cork