Docklands development expected to bring €100 million in foreign investment a year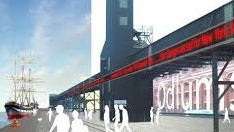 That's once the development is up and running
It comes as the City Docks and Tivoli Docks has been targeted for a new International Shipping Services Centre.
The 1 billion euro development aims to rival shipping hubs from around the world by providing for instance, insurance shipping finance and exchange.
Meanwhile several major commercial projects are earmarked for the site including office blocks and a €160 million apartment and hotel development.
The entire project will double the size of the city and provide 9,500 housing units in total.
According to a report in the Sunday Business Post the project is expected to create 3,500 jobs by the first five years with that figure to double in the long term.
More from Cork