The Irish duo who sang on stage for Adele appear on The Ellen Show!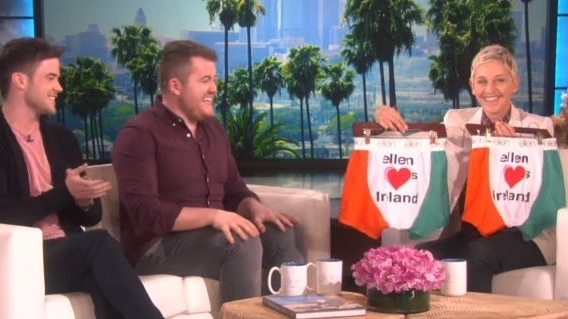 Glenn Murphy and Ronan Scolard were called up on stage by Adele herself to do their stuff during the 'Hello' superstar's 3Arena gig, and things have just gotten even better.
A couple of very lucky Irish lads, who achieved viral fame with a performance of a medley of Adele songs, and were subsequently invited to join Adele on stage in the 3Arena, Dublin a week ago, have just appeared on the Ellen De Generes show in the states.
Glenn Murphy and Ronan Scolard travelled all the way to LA to appear on the show and tell Ellen all about their experience that night in Dublin. Not a bad St Patrick's day for the talented duo!
The pair were invited onto the show to not just perform one of their incredible renditions, but also to pick up a couple of very special pair of Irish jocks from the famous host!
Take a look at how they got on...
More from Entertainment