SOAK wins Choice Music Prize!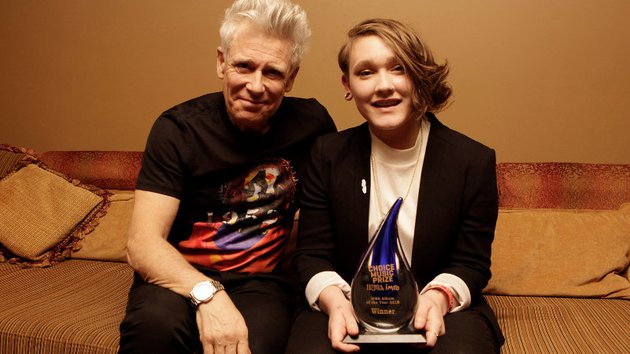 U2's Adam Clayton presenting SOAK with the award.
SOAK won the ultimate prize in Irish music last night!
Derry singer-songwriter SOAK, aka Bridie Monds-Watson, took home the Choice Music Prize for Irish Album of the Year at Vicar Street last night.
The 19-year-old beat off competition from the likes of Villagers (two memebers of which make up her own band), Roisin Murphy, Le Galaxie, Gavin James and more to be awarded the trophy and a cheque for €10,000, courtesy of IMRO and IRMA.
U2 bassist Adam Clayton presented the award to Monds-Watson, who won for her debut album 'Before We Forgot How to Dream', which was also nominated for the Mercury Prize.
Previous winners of the Choice Music Prize for 'Album of Year' include the Gloaming, Jape, Delorentos, Villagers, Adrian Crowley, Super Extra Bonus Party, Julie Feeney, Two Door Cinema Club & more.
Gavin James walked away with Irish Song of the Year - voted for by the public - for his song 'Bitter Pill'.
More from Entertainment