PIC: This Photo Of Daniel O'Donnell Has Gone Viral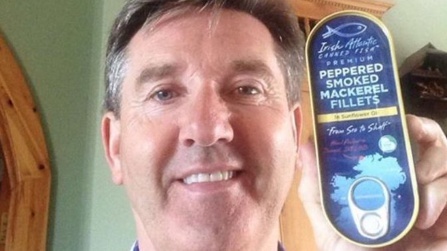 We love the internet!
Sometimes the internet seems to latch on to the strangest things and this photo of Daniel O'Donnell is the latest trend.
Daniel was making a spot of lunch and didn't have much supplies or time to pop to the shops so he had to make do with what he had in the cupboard clearly. Daniel is a man of simple pleasures it seems as he was happy out with his tin of peppered smoked mackerel fillets mixed with a dash of red pesto and mayonaisse. He claims he's not much of a chef but he said his creation was delicious so maybe he's not giving himself enough credit!
The comments on the photo are hilarious with some people just adoring fans of Daniel telling him that they listen to his CD every day but others are absolutely loving the insight into Daniel's dietary preferences. One girl referencing Mean Girls saying "I saw Daniel o donnell had peppered smoked mackerel fillets with mayonnaise and red pesto for lunch, so I had peppered smoked mackerel fillets with mayonnaise and red pesto for lunch."
the comment section on Daniel O'Donnell's facebook is a fucking goldmine i cant breathe pic.twitter.com/5IfTDJW5Zf

— kate (@katemaherr) July 28, 2016
Daniel O'Donnell is a middle aged woman on Facebook. Expect comments such as "how lovely x giv majella & kids a hug" pic.twitter.com/umPrX7aJ13

— Megan Ní Cearbhúil (@Ireland_is_us) July 28, 2016
More from Entertainment