If You're Going To Beyoncé In Croke Park Here's Everything You Need To Know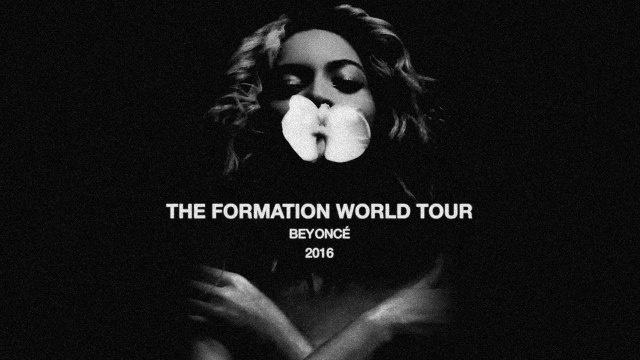 We've got you covered with stage times, what you can't bring and even a sneak preview!
Beyoncé's highly anticipated gig in Croke Park takes place this weekend. Her massive Formation World Tour is taking over Dublin for one night only on Saturday night. Reviews of the tour so far have been hugely positive and crowds are set to be in for a spectacular show. Even from watching this teaser clip you can tell the concert will be one you won't want to miss!
If you're heading to the gig, here's all the important information you need to know.
Very important information for all fans and especially any parent or guardian who has an under-18 child attending Beyoncé concert at Croke Park, Dublin Saturday 9th July 2016:
17:30 GATES OPEN
19:30 SUPPORT ACT
20:15 BEYONCÉ
CUSTOMERS ARE REQUESTED TO BE IN THERE SEATS FOR BEYONCE BY 20:15
**All times are subject to change
Please note the following very important information for the health, safety and enjoyment of all patrons:
An Gardaí Siochana, Croke Park and Promoters MCD would request that all parents and guardians undertake their responsibility to fully review and adhere to the age restrictions and conditions outlined for this event, before allowing any minors attend this event.
- Under 14s are NOT allowed on the pitch either accompanied or unaccompanied.
- All Under 16s attending the concert MUST be accompanied at all times by a parent or guardian.
- Guardian must remain with under 16s and take full responsibility for them throughout the duration of the event.
- Strict age monitoring will be in place at all entrances.
Promoter reserves the right to refuse admission without refund to anyone who fails to comply. Should you have any queries regarding the age policies or require any further assistance please email the promoter directly customercare@mcd.ie

IMPORTANT: NO QUEUING ALLOWED PRIOR TO GATES OPENING
- NO overnight/early queuing allowed before the concerts. If patrons do turn up they will be turned away at restricted area points around the stadium. Queuing in streets around the stadium will cause disruption to local residents and we appeal to patrons to heed thisadvice.

TRANSPORT
AN GARDA SÍOCHÁNA TRAFFIC MANAGEMENT PLAN IN OPERATION FOR FULL DETAILS PLEASE CHECK WWW.GARDA.IE
PLAN YOUR APPROACH TO CROKE PARK BASED ON THE FOLLOWING:
• AS TRAFFIC AND PARKING DELAYS ARE INEVITABLE YOU ARE STRONGLY ADVISED TO USE PUBLIC TRANSPORT OR CAR POOL.
• PLEASE USE CITY CENTRE CAR PARKS DETAILS OF WHICH CAN BE FOUND ON THE SCRIPT FAQ ON WWW.MCD.IE
• CROKE PARK IS WELL SERVED BY PUBLIC TRANSPORT - DUBLIN BUS, RAIL, DART &
LUAS WILL ALL BRING YOU LESS THAN A 15 MINUTE WALK TO THE GROUND. VISIT WWW.DUBLINBUS.IE // WWW.LUAS.IE. // WWW.IRISHRAIL.IE
Late services on DART, Maynooth, Longford, and Dundalk lines will operate for customers travelling home after the concert. A special train service to Limerick and Cork with stops at Limerick Junction , Mallow and Charleville will depart from Heuston Station at 00.30hrs on Sunday 10th July.
Further information on services is available at http://www.irishrail.ie/BeyonceCrokePark or phone 1850 366222
DOWNLOAD MAP AND DIRECTIONS AT WWW.CROKEPARK.IE
• WE STRONGLY RECOMMENDED YOU PLAN YOUR JOURNEY IN ADVANCE ALLOWING SUFFICIENT TRAVEL TIME TO AND FROM THE VENUE
• PLAN YOUR ROUTE IN ADVANCE AND CHECK THE AA ROADWATCH WEBSITE FOR REPORTS ON TRAFFIC, ROAD WORKS, DELAYS ETC. ON YOUR ROUTE.
• FOR LATEST LIVE SHOW DAY TRAFFIC UPDATES TELEPHONE AA ROADWATCH 1550 22 22 11 (AA ROADWATCH PREMIUM RATES APPLY) OR TUNE IN TO RTÉ 2FM.
APPROACH ROUTES
Croke Park is bordered by Clonliffe Road, Ballybough Road, and the North Circular road
HOGAN STAND via Jones Road and Russell Street – BLUE Route
CUSACK STAND via St James Avenue and Foster Terrace – RED Route
DAVIN STAND via St Margaret's Terrace – YELLOW Route
PITCH via St James Avenue and Foster Terrace – RED Route

SPECIAL NEEDS
Please contact the promoter in advance of the concert access@mcd.ie with any accessible requests or queries you might have regarding this concert
Please note there is LIMITED SPECIAL NEEDS PARKING available in Clonliffe Carpark accessed off Drumcondra Road. Please email access@mcd.ie for further information regarding registering for an accessible parking pass.

YOUR SAFETY
THIS IS AN OUTDOOR EVENT AND CONCERTS WILL TAKE PLACE RAIN OR SHINE. PLEASE REMEMBER TO PLAN FOR ADVERSE WEATHER CONDITIONS AND PROMOTER RECOMMENDS THAT PATRONS DRESS APPROPRIATELY. ALWAYS CHECK THE WEATHER FORECAST BEFORE SETTING OFF.
SHOW YOUR TICKET AT THE TICKET BARRIER OUTSIDE THE GROUND FOR INSPECTION.
STRICT SECURITY CHECKS ARE IN OPERATION. PATRONS ARE ADVISED NOT TO BRING BACK-PACKS.
THE FOLLOWING ITEMS WILL NOT BE PERMITTED: UMBRELLAS, GARDEN FURNITURE OR SEATS, FOOD, BANNERS OR FLAGS LARGER THAN A4, LASER POINTERS, GLOWSTICKS, FLASHLIGHTS, INFLATABLE BALLS OR BALLOONS, WEAPONS, FIREWORKS, GLASS OR CANS, ALCOHOL, STUDS & SPIKES, SHOOTING STICKS, SELFIE STICKS, CAMERAS WITH MORE THAN 1'' LENS, VIDEO CAMERAS , IPADS & AUDIO RECORDING DEVICES.
• OBEY THE STEWARDS AND GARDAÍ AND INSTRUCTIONS GIVEN OVER THE PUBLIC ADDRESS, FOR YOUR OWN SAFETY.
• THE PROMOTER DEEMS THAT LARGE OUTDOOR FESTIVALS AND CONCERTS ARE NOT SUITABLE ENVIRONMENTS FOR BABIES OR SMALL CHILDREN THIS BEING SO, THERE ARE NO MEASURES IN PLACE TO FACILITATE BABIES OR SMALL CHILDREN AT THE CONCERT. EVERYONE ATTENDING THE EVENT MUST HAVE A CONCERT TICKET. IT IS IMPORTANT TO NOTE THAT HIGH NOISE LEVEL CAN DAMAGE A CHILD'S HEARING.
• SMOKING IS PROHIBITED EXCEPT AT DESIGNATED SMOKING AREAS WITHIN THE GROUNDS.
· DON'T RUSH TO THE EXITS AT THE END OF THE CONCERT
• THERE ARE STRICTLY NO READMISSIONS TO THE CONCERT
· There will be a wide range of food and beverages available to buy within the stadium. Please note: alcohol will only be available to purchase for adults aged 18 and over, you will be required to provide photo ID as proof of age.

PLEASE NOTE:
- Should you have any queries in advance you should contact Ticketmaster or the promoter MCD and we will be happy to assist.
- Please be advised on concert day there will be customer care points outside and throughout the venue should you require any assistance please ensure to speak with a member of staff and we will be happy to assist.
- There will be FREE TAG-A KID safety wristbands will be available at all customer care points both outside and inside the venue Parents/Guardian attending with young children are encouraged to avail of these white wristbands which have a space for Parent/Guardian to write contact number and seat number. The purpose of these is to help reuniting Lost Children with parent/guardian should your child become separated from you within the venue.

CREDIT CARD COLLECTIONS / GUEST LIST
AVAILABLE FROM OFFICIAL TICKET OUTLET AT GILL'S CORNER - THE CORNER OF RUSSELL STREET & NORTH CIRCULAR ROAD

CONCERT INFORMATION
For further event information please check www.mcd.ie and www.ticketmaster.ie
CROKE PARK STADIUM IS SITUATED IN A RESIDENTIAL AREA. WE WOULD APPEAL TO ALL FANS TO RESPECT THE LOCAL COMMUNITY BY NOT LITTERING, NOT ENGAGING IN ANTI-SOCIAL BEHAVIOUR AND BY NOT PARKING ILLEGALLY.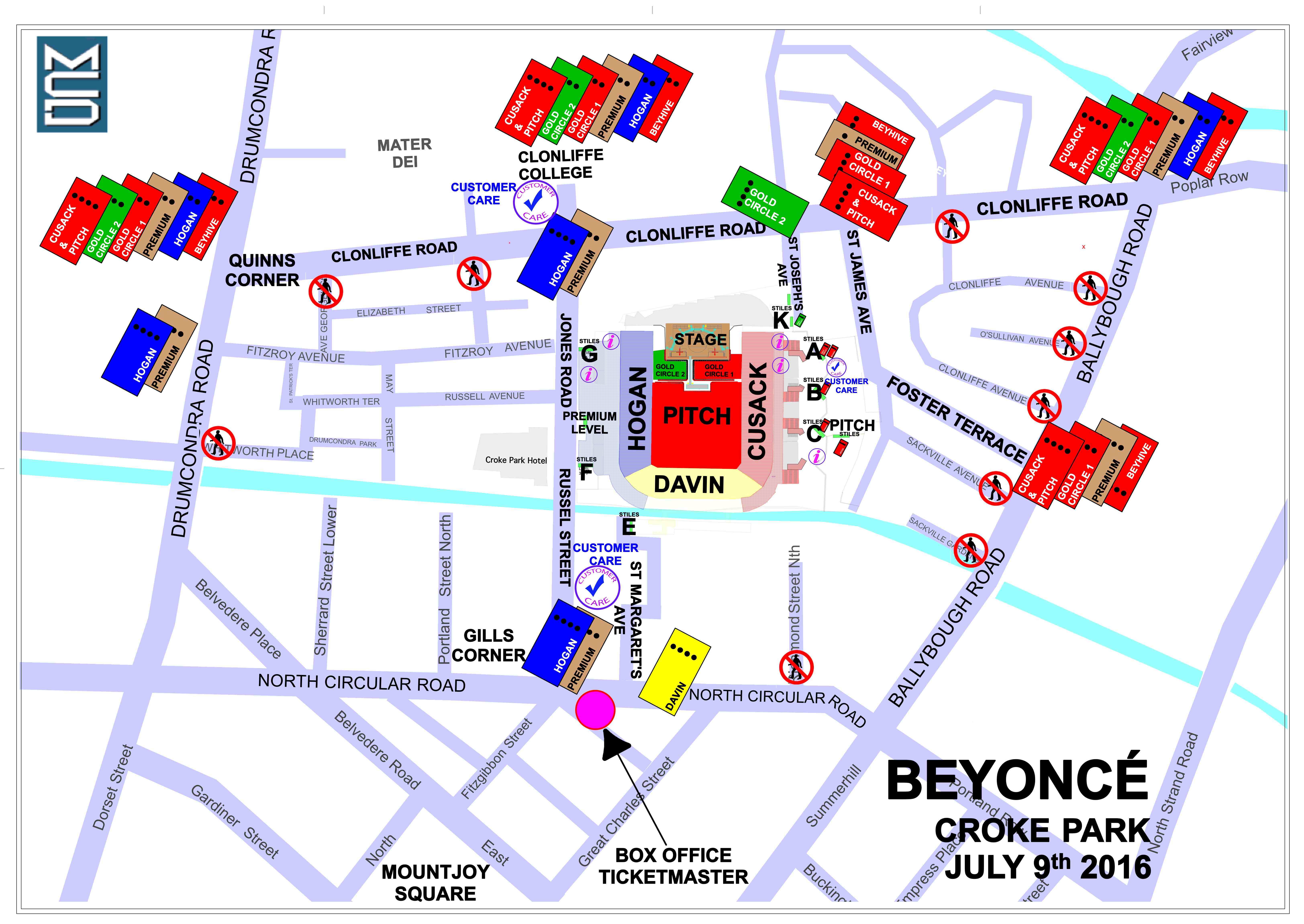 More from Entertainment