George Clooney Gives Elderly Fan The Surprise Of A Lifetime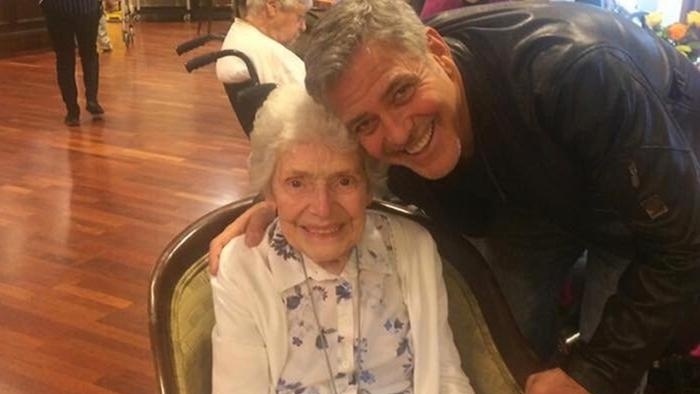 George Clooney visited a care home to give one of his biggest fans a surprise she'll never forget.
The actor took time out of his schedule to call in to Sunrise Senior Living UK in Sonning, England on Sunday to surprise superfan Pat Adams on her 87th birthday.
The 55-year-old posed for photos with Pat who had no idea that the actor was going to be paying her a visit.
One of Pat's carers, Linda Jones, wrote a Facebook post following the exciting event saying "A dream come true for one of our residents today!"
"The lady in the picture loves George Clooney and mentions every day how she would love to meet him, especially as he lives so near to where I work. So letters have been sent asking would it be possible for her dream to come true."
"And what was extra special, it was her birthday in the week. He bought a card and a lovely bunch of flowers."
We love #GeorgeClooney. What a legend!!! #SunriseofSonning https://t.co/6cuO1gPrvr

— Sunrise Sr Living UK (@SunriseSrUK) March 20, 2017
A spokesperson for the Sunrise care home told the BBC: "This was a classy gesture from a wonderful man."
"She was absolutely thrilled to meet her great icon, and it was such a lovely surprise to see George greet her with flowers and a card."
They said Clooney had rang the doorbell asking for Pat and was holding the letter that the staff had sent to him about Pat.
Staff in the home regularly try to make residents' dreams come true but they did admit that they "didn't think they would be able to pull this one off."
More from Entertainment