Statues Stolen From Miltown Castle In Charleville Recovered By Gardaí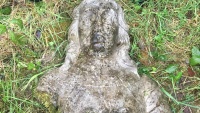 They were stolen in July 2011.
Two are statues of eagles mounted on 10ft high pillars, and the others are life size busts of William of Orange and Oliver Cromwell.
Earlier this week a member of the public found all four statues near a derelict outhouse on lands near Cratloe, Co. Clare.
Gardaí say they are investigating the find.

More from Cork