Standardised Test For Whiplash To Be Used For Claims Against Insurance Companies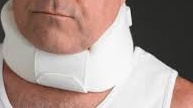 A standardised test for whiplash should be used by medics examining patients for claims purposes.
That's one of the recommendations of the Personal Injuries Commission, which published its first report today.
But the PIC does not recommend that a panel of medical experts be used by courts in assessing damages, saying it could infringe upon a claimant's rights.
Kevin Thompson is CEO of Insurance Ireland:

More from Cork