Plight Of Leeside Apartment Residents Indicate The Private Housing Market Is Not Sufficiently Regulated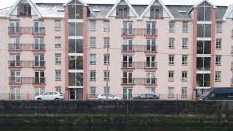 That's according to UN Special Rapporteur on Adequate Housing Leilani Farh

The plight of residents at the Leeside Apartments seems to indicate that the government is not sufficiently regulating the private housing market.
That's according to UN Special Rapporteur on Adequate Housing Leilani Farha who was speaking at a meeting of the Oireachtas Housing Commitee yesterday.
Lugus Capital say the evictions are necessary for refurbishments to be carried out at the city centre complex, however residents claim the work can be completed without evictions
The evictions have been appealed to the Residential Tenancies Board who are due to make a ruling on the cases.
Speaking to RedFM News, Deputy Mick Barry says Leilani Farha's comments will be welcomed by the residents of the complex
More from Cork