Plans for tallest building in Ireland unveiled Leeside this morning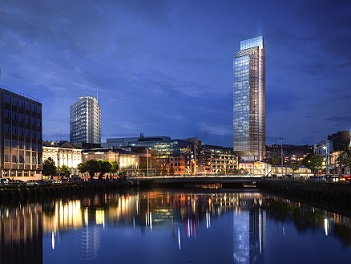 Plans for a new city centre hotel and public space have been unveiled this morning.It's part of the redevelopment of the historic Custom House Quay site and will be the tallest building in Ireland. 
The development will feature the restoration of the existing landmark structures and the introduction of a new 34 story hotel tower with unparalleled panoramic views across the city.
The proposal will involve the restoration of the the custom house and the bonded warehouses will be opened up for public access, which will include retail units for local entrepreneurs, and a cultural offering for locals and tourists.
The new visitor experience will be completed with the introduction of a micro-distillery at the eastern end of the site.
Up to 400 construction jobs will be created in the short term, with employment on the completed site expected to be in excess of 800.
Tower Holdings is planning a public information event at which plans for the new Custom House Quay development will be on display. The event will take place in the Custom House, Port of Cork on Saturday July 13rd from 11am - 2pm
More from Cork