Farmers Warn Today's Blockade At Aldi's Distribution Centres Will Be The First Of Many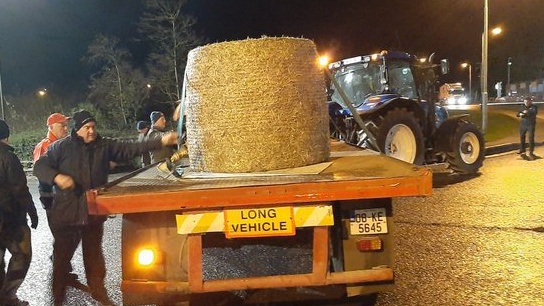 They're demanding a beef price increase while Aldi says it received no communication from the IFA of any grievance
Around 50 members of the Irish Farmers Association are staging a 12-hour picket outside the Aldi warehouse in Naas, Co. Kildare.
Many of the truck drivers who arrived for deliveries have now given up and left, but protestors, hay bales and tractors will remain on site until 7pm.
The IFA claims the gap between what beef farmers receive, compared to UK farmers, has widened to 50 cent a kilo.
These farmers want further protests, unless there's an immediate rise in beef prices:
Aldi says it's "extremely disappointed" by today's action and says it received no request for engagement, no communication and no warning of any grievance from the Irish Farmers Association

More from Cork